New Year, New Me...
2018 is here! HAPPY NEW YEAR! How did everyone celebrate? I always get a bit bleugh about New Year, I feel like there is this huge social pressure to have a good time and party, but why?! I opted for a cosy night in and it was divine. A lovely M&S meal for two, in the warm and wearing my comfy PJs. Lush.
Anyway, it's now time for the classic 'New Year, New Me' posts. So here is mine, I am joining in again (and I LOVE IT).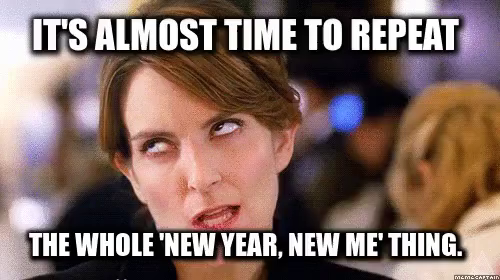 This year I am grabbing January and making the most of it. Not going to lie, the January blues really get to me. All the excitement and merriment is over, lights are down and it's all very grey. (Although I do have two birthday celebrations to attend...) The other day I saw a post by the charity Mind and it has inspired me. This January is all about my health. Fresh new year, fresh start. Therefore every day in January - rain, shine or snow - I am going to go out on a run or walk after work and use the time to reflect on each day. Not only is this going to help me get fit but also gives me time away from technology to get some fresh air and enjoy time. We can get so caught up in the world that we lose valuable "me time" to reflect on what is important to us and gather our thoughts. Let's see how that goes with beating those January blues (I shall report back). How do you beat the blues?
Next up is the goals for 2018. I don't deal with New Years Resolutions as such, more just aims/goals for the year & I look back on these in the Summer and end of each year. Now as some of you may know I have my '30 before 30' list on the go, so I am aiming to get a few more of those ticked off this year! Alongside that, my other aims include:
Get fit - Happy body, happy mind. This is something I am doing purely for myself, not for anyone else. I genuinely believe that they go hand in hand. The aim here is to achieve this via Slimming World and exercise!

Chick-King Fam. This is all about me sending time at home, making time for myself and being with Lew more. I've spent more weekends in 2017 as a busy busy bee. 2018 is going to be different.

Remember those who matter. As we get older, our friendships and relationships change. It's time to filter out those who aren't in this for the long-term. (Thanks to Ross for this one! Check out his blog post here)

Education. Pretty much speaks for itself, right?
So there's a snapshot of the goals... there are more, but not all of them need to be published! What are your goals? Do you make New Year Resolutions?
Disclaimer: This blog does not reflect the thoughts or opinions of my employer.